Altelios has come to the aid of Vietnamese children, via the ABCDE Vietnam association, by donating school supplies. A concrete and indispensable aid to the learning of these underprivileged children.
It all started with Pauline….
Altelios had long been at heart to provide material assistance to a humanitarian association with educational goals. That's how Pauline, an Altelios employee, came up with her association : ABCDE Vietnam with its project to help educate Vietnamese children.
With a view to non-wastefulness, Altelios Technology collected more than 150 notebooks and associated pens internally and sent them to Vietnam. Members of the association came at the end of June to collect the supplies from the Group.
The smile of the children of Hai Phong
A few days after the collection of the notebooks and pens, the association's volunteers were able to distribute them to young schoolchildren in Hai Phong and Ha Long, two cities in the north of the country. Thanks to the ABCDE Vietnam association and to the various aids from companies such as Altelios, these children have a chance to grow up and be educated normally, and to ensure the autonomy of their families once they are adults.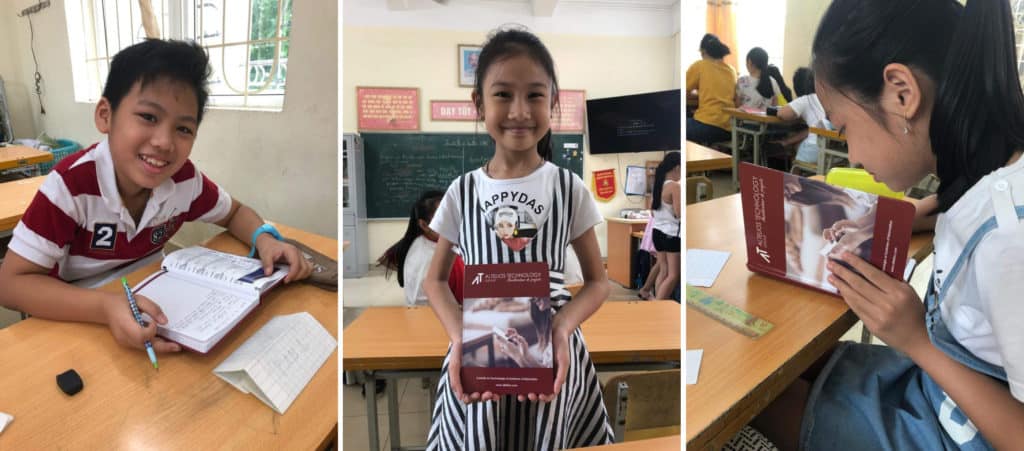 The association ABDCE Vietnam
ABCDE Vietnam (Association for Cultural and Educational Development) is an association that has been committed to the promotion of the French language in Vietnam for over 25 years.
Each year, volunteers participate in 6-week missions in Vietnam, during which they will have the opportunity to give French lessons to Vietnamese students, from primary to high school. The missions take place in the summer, from June to August, and can easily be integrated into a school curriculum. They provide daily French lessons, the schedule varies according to the destination and the year. This year, the missions will take place in two cities in northern Vietnam: Hai Phong and Ha Long. The students participate in an unforgettable cultural exchange.